P Money x Whiney - Streets, Love & Other Stuff
NHS512CD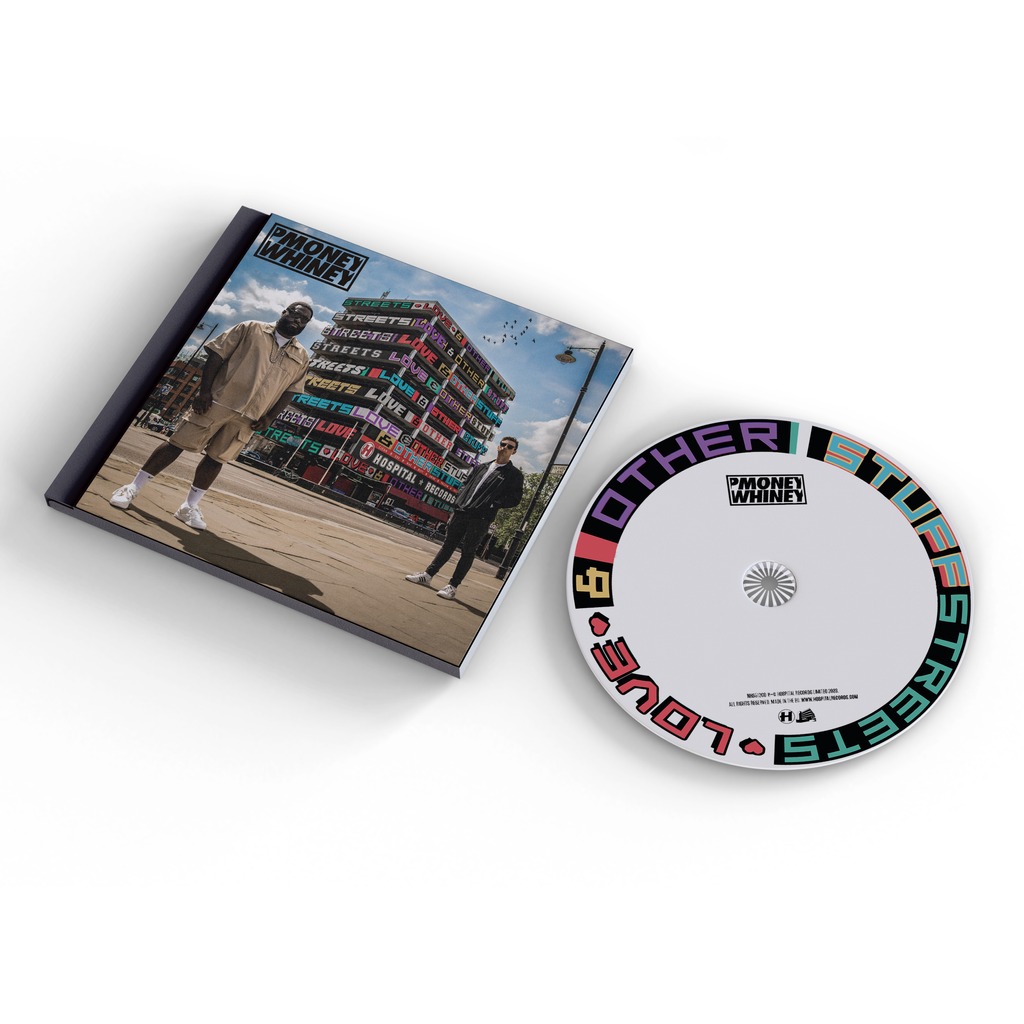 CD tracklist
CD1 1. P Money x Whiney - 175 x 140
CD1 2. P Money x Whiney - Buss The Red
CD1 3. P Money x Whiney - Junkyard (feat. Ocean Wisdom)
CD1 4. P Money x Whiney - Sorry I'm Not Sorry
CD1 5. P Money x Whiney - So It Seems
CD1 6. P Money x Whiney - Ecstasy
CD1 7. P Money x Whiney - Hyper
CD1 8. P Money x Whiney - Dead In The Eye (feat. Example)
CD1 9. P Money x Whiney - Saviour (feat. Y-Zer)
CD1 10. P Money x Whiney - One Xtra
CD1 11. P Money x Whiney - Ghetto Hospitality (feat. Blacks & Dreps)
CD1 12. P Money x Whiney - Lowkey
CD1 13. P Money x Whiney - 6STR
CD1 14. P Money x Whiney - Junkie
Dive headfirst into a unique sonic underground experience as Hospital Records proudly unveils the highly anticipated debut album, 'Streets, Love & Other Stuff,' from the dynamic duo P Money x Whiney. This groundbreaking collaboration is a perfect storm, fusing P Money's legendary grime background with Whiney's futuristic drum & bass style, as the pair continue to break boundaries and push the realms of dance music. Since 2021, P Money x Whiney have been making waves in the underground scene, leaving their indelible mark with a string of chart-topping hits including 'Buss The Red', 'Sorry I'm Not Sorry', 'Dead In The Eye (feat. Example)' and 'So It Seems (feat. Zoe Kypri)'. P Money's legendary status sees him as one of the UK's most iconic artists having voiced hits such as 'Where & When', 'Lamborghini' with KSI, 'Slang Like This' & countless more, and Whiney's commitment to the drum & bass scene over the years has seen him become a staple in the electronic music community as he boasts an impressive back catalogue home to tracks such as 'Headlines; with Subten, 'Flashlight' with Inja, as well as albums 'Talisman' and 'Waystone'. They're about to shake up the game with their first ever longplayer as a duo - get locked!
Kickstarting the album campaign with full force, P Money x Whiney team up with none other than Ocean Wisdom on 'Junkyard'. Explosive in nature, prepare to be mesmerised as P Money and Ocean Wisdom effortlessly deliver an energising bar for bar performance as they showcase their lighting-fast delivery over Whiney's D&B-meets-grime infused production. Making his debut in drum & bass territory, Ocean Wisdom has built up a widely acclaimed reputation with releases on High Focus Records such as 'Revvin'' with Dizzee Rascal, 'Tom & Jerry', 'Real Smooth' with The Four Owls and more.
Feel the exhilaration of 'Ecstasy,' an unrelenting drum and bass scorcher that unleashes a euphoric slew of heavy basslines, powerful drumwork, and energising lyricism. Whiney's unrivaled production skills shine bright as he weaves a lethal instrumental masterpiece combined with P Money's unmatched wordplay and addictive flows.
The album is packed with standout moments, including the commanding opener '175x140,' a tantalizing glimpse into the sonic journey that awaits - "this is D&B and grime". The infectious energy of 'Hyper' is undeniable, as P's dynamic bars go hand in hand with Whiney's relentless studio wizardry.
P Money x Whiney team up with Dreps and Blacks on 'Ghetto Hospitality', a cold-cut rumbler guaranteed to have the international club circuit booming, alongside the likes of 'One Extra' where P's bubbling flow and wordplay take centre stage and almost certainly will get the reload treatment.
Renowned radio tastemakers including Clara Amfo, Charlie Tee, DJ Target, Sian Anderson, Fred V and many more have provided unwavering airwave support for P Money x Whiney, further fuelling their rise to the top as one of the most exciting underground music duos. With their exhilarating live performances that have seen them take to the stage at the likes of Glastonbury, Let It Roll, Hospitality On The Beach, Rampage and Warehouse Project to name a few, P Money x Whiney continue to turn heads with their showstopping productions and unmissable energy.
'Streets, Love & Other Stuff' will be available on all major streaming platforms, as well as on limited 2x12" gatefold on 6th October 2023.