Makoto - Motion of Change
NHS465DD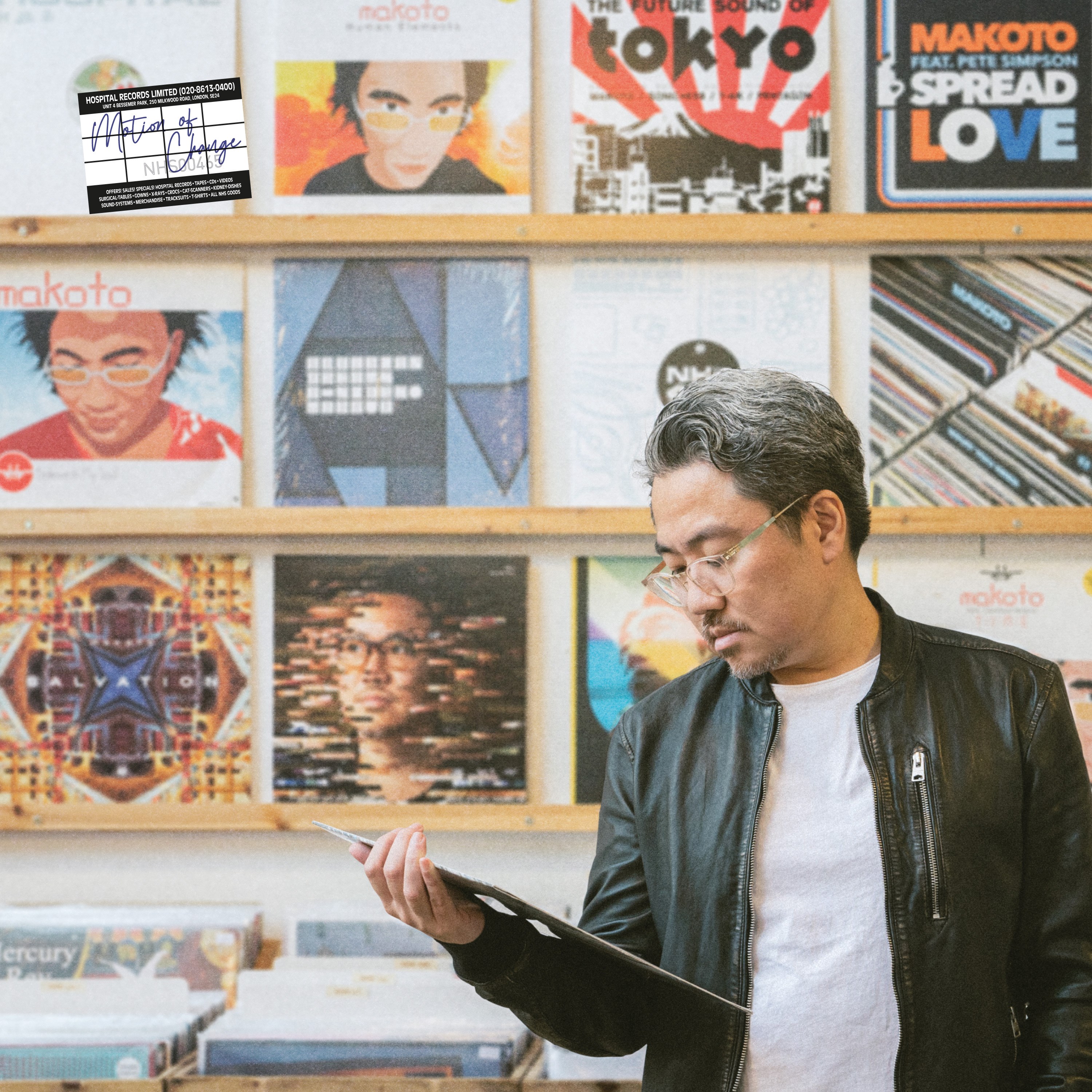 | | | |
| --- | --- | --- |
| MP3 release | £7.99 | |
| FLAC release | £11.99 | |
| WAV release | £11.99 | |
Hospital Record's soulful drum and bass aficionado Makoto is back with his seventh studio album, 'Motion Of Change'. Following on from his popular 'What You Need' EP and the vibrant 'Maybe We'll Make It (feat. Mark Force and Archaik)', his new album brings a blend of jungle, jazz, funk, and soul with Makoto's signature euphoric touch. With over twenty years in the game, Makoto's immaculate discography and signature sound have seen the Japanese born producer pave the way for liquid drum & bass all the way into 2022. A true pioneer of his craft since his Good Looking Records days of the late 90s, he's since racked up an impressive amount of releases on Innerground, UKF, Liquid V and his very own imprint Human Elements.
More recently, Makoto's output includes his two Hospital albums 'Salvation' (2017) and 'Tomodachi Sessions' (2019), and the hugely popular 'What You Need' ft Vonne selected as the first ever drum & bass track to be played on Sarah Story's BBC Radio 1 Future Dance show, alongside support from the likes of DJ Marky, Bryan Gee, Flava D, Nu:Tone, Lenzman and more.
The motivational 'Step Into Your Power' features ravishing vocals from rising D+B superstar Ruth Royall. Makoto's production skills don't go a miss as he cooks up luscious pad hits and a booming bottom end. With the pair recently releasing the flavourful 'New Love' on Soulvent Records, expect good vibes galore as two of the most uplifting sound suppliers in drum & bass collide once again.
Makoto unleashes spaced out synth work, soulful guitar licks and a dynamic crescendo of instrumentation on album title track 'Motion Of Change' with Hospital Records' latest signing, the immensely talented singer-songwriter, SOLAH delivering sweet melodies and majestic high notes.
Makoto travels into deeper territories on 'Explorer' ft Degs, as he provides grittier production complete with a moody bassline. Labelmate and multi-talented vocalist, MC and producer Degs dishes out a slew of dynamic bars and dreamy harmonies for the pair's first collaboration since 'Illuminate' on Makoto's 'Tomodachi Sessions' in 2019.
Embracing his love for the original sound of the 90's, the junglistic instrumental 'Ascender' brings future-retro synthesis, crisp cut breakbeats and a summery ambience that lays the foundation for the perfect sub-heavy slammer.
Makoto and London-based singer Karina Ramage reunite on 'Without You' after previously collaborating on 'Shine On Through', 'I Don't Wanna Wake Up' and Forza favourites 'Wading Through The Crowds' and 'Trial Mountain'. Karina's soothingly crafted vocals compliment the sincere violins and trademark production prowess from Makoto, making 'Without You' another future soulful singalong anthem.
The album also features an eclectic mixture of both fresh and legendary talent from across the drum & bass circuit and beyond, brace yourself for a dynamic streak of sonic contributions from the likes of Singing Fats, Cleveland Watkiss, Liane Carroll, Lauren Archer, Rasmus Faber, Pete Simpson, LXT, and Helena May. You'll be able to catch Makoto in the Albanian sun this summer at Hospitality On The Beach to soak up those ultimate feel-good vibes!